STEPNPULL – THE FOOT HANDLE
The #1 Product for
preventing germ &
virus transmission.
Eliminate 100% of surface germ transfer by using StepNpull®!
Why would anyone touch a surface which could cause them
to get sickness & Diarrhoea, the flu virus or even COVID19?
"Helping Keep 
Clean
 Hands 
Clean!"
*Discounts available for large quantities.
Hand hygiene is the single most important measure for preventing the spread of germs causing infection & viruses.
70% of people do not wash their hands properly after using the toilet!
1 in 10 people do not wash their hands at all
1 in 4 people have been found to have faecal matter on their hands!
Flu viruses capable of being transferred to hands and causing an infection can survive on hard surfaces for up to 24hrs
"StepNpull

®

is one of the most effective measures in helping prevent the spread of germs & viruses including Coronavirus (COVID19)."

Healthy employees save their company time and money, happy customers maintain reputations and make companies money!
Faced with all the facts why would any company not want to install StepNpull® The Foot Handle?
*Discounts available for large quantities.
So you think you have clean hands?
Typically we have between 10,000 and 10 million germs on our clean hands! This number doubles when we have used the toilet.
Research in London estimates that if everyone routinely washed their hands after using the toilet, a million deaths could be prevented.
Dr Misch trained at Charing Cross Hospital. Following this he received his Dermatology speciality training at St John's Hospital for Diseases of the Skin in London and St George's Hospital.
Dr Klaus Misch BSc FRCP says:
"As any health care professional will tell, you hand hygiene is the single, most important measure for preventing the spread of infection."
The fewer surfaces you touch the better.
In the past I have always recommended that patients, when leaving the bathroom, use a paper towel on the handle to ensure that the good work of washing their hands is not undone by others who choose not to wash. With the introduction of StepNpull® this makes the process a whole lot easier.
If you are concerned about this issue (and you should be) in your place of work, or facility toilets that you visit regularly – ask your manager or boss to install a StepNpull® and greatly reduce the chances of contamination when you leave the toilet!
Protection for any type of door.
We have developed a StepNpull® solution to cover all door types, meaning you can be sure we have a solution
for your office or business to ensure the safety of your staff & customers.
Wooden Door Surfaces
Reinforced, safety-gauge fire resistant fixings that provide optimum support for wooden door application onto surfaces that require screw fixing.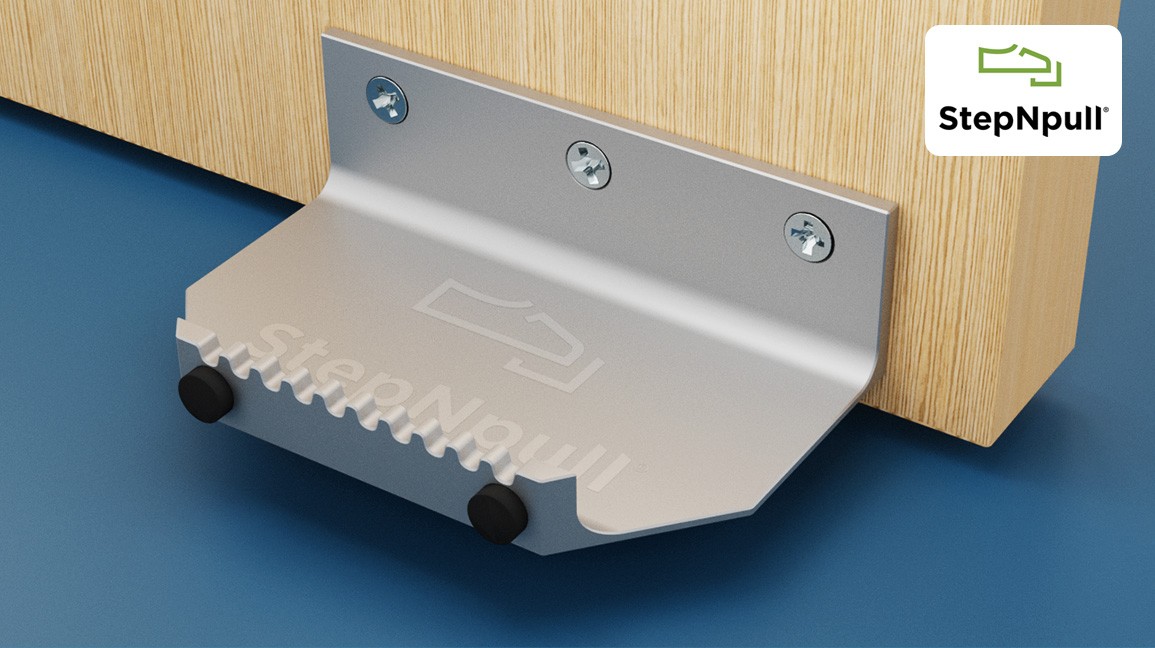 Glass Door Surfaces
Weight-resistant resin ensures your application is safely attached to glass and other non-screwable surfaces with no compromise on fixation.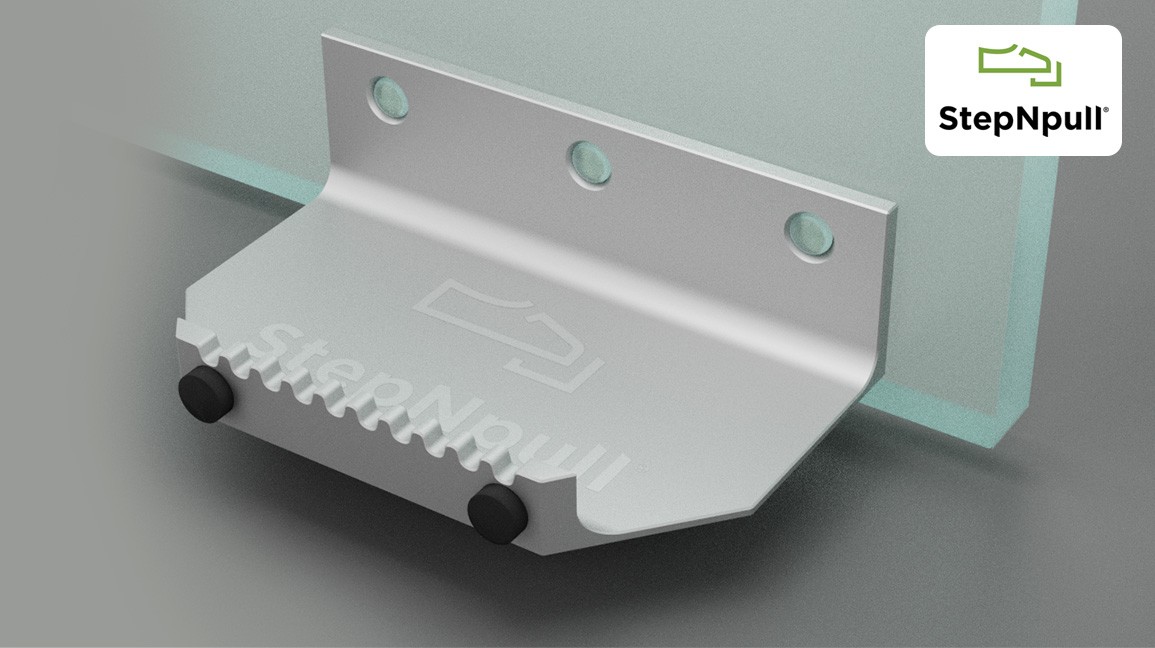 What people are saying
about StepNpull.
The Sytner Group is the UK 's leading retailer of prestige cars and were keen to take extra measures to protect their employees and customers as the UK slowly comes out of lock-down.  Andy Crossan from the BMW and Mini division came across StepNpull® The Foot Handle and said "this product was such a simple solution to not touching door handles that we have decided to trial them across our showrooms, so far we've had some great feedback from colleagues and customers on the product".
"At Boostball we are all about natural ingredients, health and wellbeing. When we came across a device that allowed you to open a door with your foot, avoiding the need for additional hand sanitising, it actually made you feel positive that you were helping to stop the spread of infection or bacteria by not touching a door handle.  It was so simple that we ordered StepNpull® The Foot Handle immediately and they were delivered and installed the  next day". For food facilities where good hygiene is important these devices are a great asset." 
"Hireco are all about good customer service, it has been behind their success over the last 50 years, so they were keen to provide extra protection for their staff and customers as a result of the pandemic.  We were recommended StepNpull® The Foot Handle as a way to open doors with your foot and thought it was such a simple device that we immediately decided to install them. You now know you can exit the door without touching the handle – healthy hand hygiene is taken care of and our customers can enjoy a touch-less experience!"
So, are you ready to protect your business?
Let's talk today.