What is StepNpull® The Foot Handle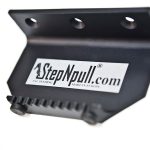 StepNpull® The Foot Handle is a unique but simple device which allows you to open a public toilet door hands free by using your foot.
It is a metal plate with a serrated lip which screws into the bottom of the door allowing a person to step on to it and pull the door open with their foot.
Made of recycled aluminium and with an anodised finished it is environmentally friendly.
The StepNpull® is made in Britain and built to last with a lifetime warranty.
Take a look at our StepNpull Company Presentation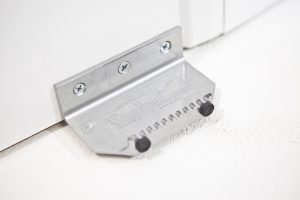 There are no hidden costs you are safe in the knowledge that you have put in place an effective way to reduce the impact that a dirty toilet door handle can have on your workforce, customers and within the community
It is easy to install in around 5 minutes and comes complete with fixing bolts and screws.
Simply put StepNpull® The Foot Handle is:
Effective to help prevent the  spread of infection
Low cost
No maintenance
Eco friendly
Easily installed
No hidden charges what you see is what you get
Complete with a life-time warranty
Made in Britain
But you probably want to know a few more things